October 13, 2015

Comments:

0

Posted by: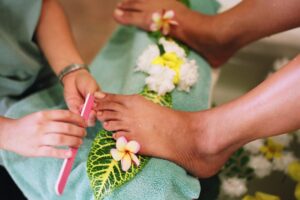 Spring has sprung, and it is time to spring your toes from close-toed shoes! If you are like the rest of us, you have probably neglected your tootsies over the cold Orlando winter. (It feels so good to be in flip flops again!) If your feet are in dire need of a pedi, get into The Spa ASAP.
This year's hot colors are HOT! Like Absolutely Alice from OPI's Alice in Wonderland Collection or Bling Dynasty from the Hong Kong Collection.   Have a professional get your toes ready for sandals at the beach and loose the dark, winter-polish colors. Of course, classics like pinks, reds and French are always in style, but if you are looking to shake it up, try a bright turquoise or orange!
Short on time? Try a 30-minute Spa Pedicure. Need some relaxation, how about an hour-long Signature Pedicure? (Don't forget that the Signature Pedicure is part of the ½ off club! What is the ½ off club you ask? Check it out https://thespaorlando.com/spa-newsletter)
Regardless of what color suits your style, every gal needs pampering. So head over to The Spa, sit back in a relaxing massage pedi chair, enjoy a cool mimosa or The Spa Spritzer (The Spa's signature drink) and pamper your tired feet. While you are there, how about a mani to match your pretty toes?